In the last review, I shared the tradition of the Fèis Ìle celebration and the excitement around the limited expressions from the Islay distilleries to commemorate Fèis Ìle each year. Like Bowmore, Bunnahabhain also released two variations for Fèis Ìle – a 16 year old Spanish Oak Finish, and this 10 year old Mòine Oloroso Matured.
Coming from the Scottish Gaelic word for peat, mòine is used for Bunnahabhain's peated releases like this one. This dram started life on the 12th of December, 2007 where it then matured in a Sherry Oloroso cask for 10 years until the 26th of February, 2018 – just in time for the Fèis Ìle in May.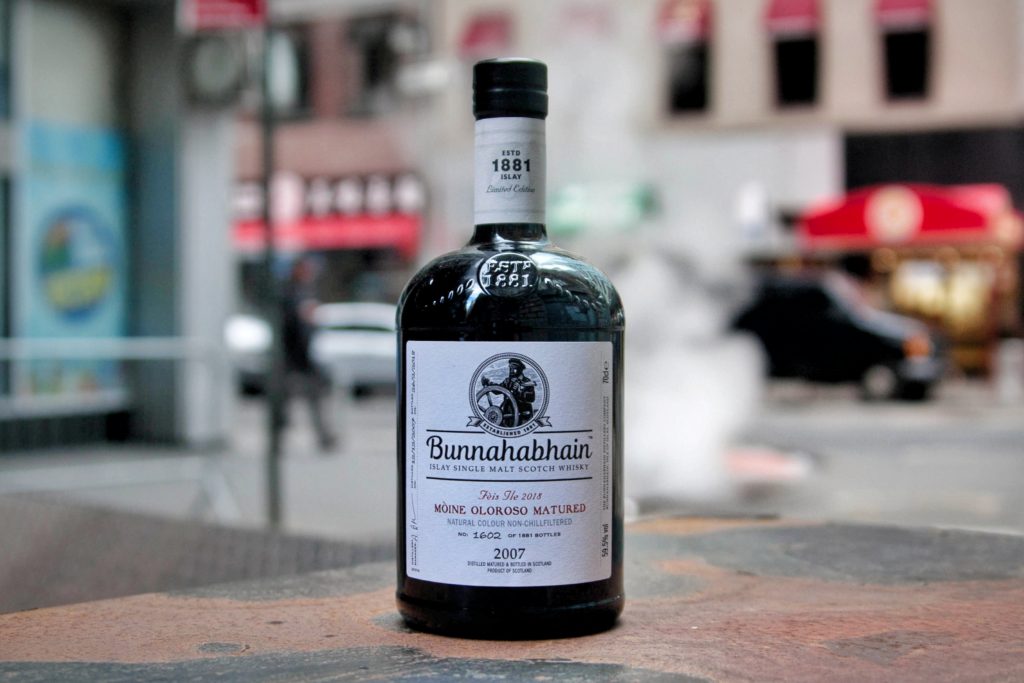 This dram packs some serious punch. After I first tried it, I had to have a bottle. Unfortunately the distillery had sold out, and I missed out on a few auctions. When I was touring the Deanston distillery, which like Bunnahabhain is owned by Distell, I was sharing my love for this dram and my disappointment that it was sold out. During my tasting at Deanston my tour-guide apologized that he had to tend some other matters and would be back shortly; alas he returned, with a grin on his face and handed me this very bottle.
---
BOTTLE INFO
Distiller: Bunnahabhain
Region: Islay
ABV: 59.5%
Outturn: 1881 Bottles
Mashbill: 100% Malted Barley
Cask Type: Oloroso
Age: 10 Years
Chill Filtered: No
Color Added: No
Color: Tawny
---
TASTING NOTES
Glass for Review: Glencairn
Nose: Initial medicinal notes of iodine and sticky plasters followed by campfire smoke. After a few moments rest the medicinal notes give way to toffee, chocolate and marzipan. The peat smoke becomes more present as the whisky opens up, but still remains balanced with the sweeter notes and not overpowering.
Palate: The palate is bold and intense. Pepper and spice are first noticed followed by mesquite and BBQ smoke and a little bit of tar. Sweet notes linger around with raisin, figs, dates, and raw cacao.
Finish: The intensity of the palate follows through into a finish that feels like lasts for ages. Wood smoke, ash, pepper, and spice fill your breath with undertones of figs and toffee. Hints of iodine and tar linger, yet subtly (relatively speaking considering how punchy this dram is).
Overall: Give this whisky some time to open up to truly appreciate it. Even after resting, this is no feeble dram. This dram is the epitome of intense, the smoke punches you in the mouth, but doesn't overwhelm the palate because that sweetness is equally powerful. A little bit of water helps mellow out the dram turning down the volume from 11; and the water does not upset the balance of the dram either.
Average Price: $130RRP (Discontinued)