Auchentoshan is one of those distilleries that has an incredibly recognizable and unique nose and taste. The distillery attributes much of this uniqueness to their triple-distillation method. As many of you know, most scotch whisky is double-distilled with Auchentoshan and a small handful of other distilleries distilling one more time creating and even cleaner and higher strength spirit.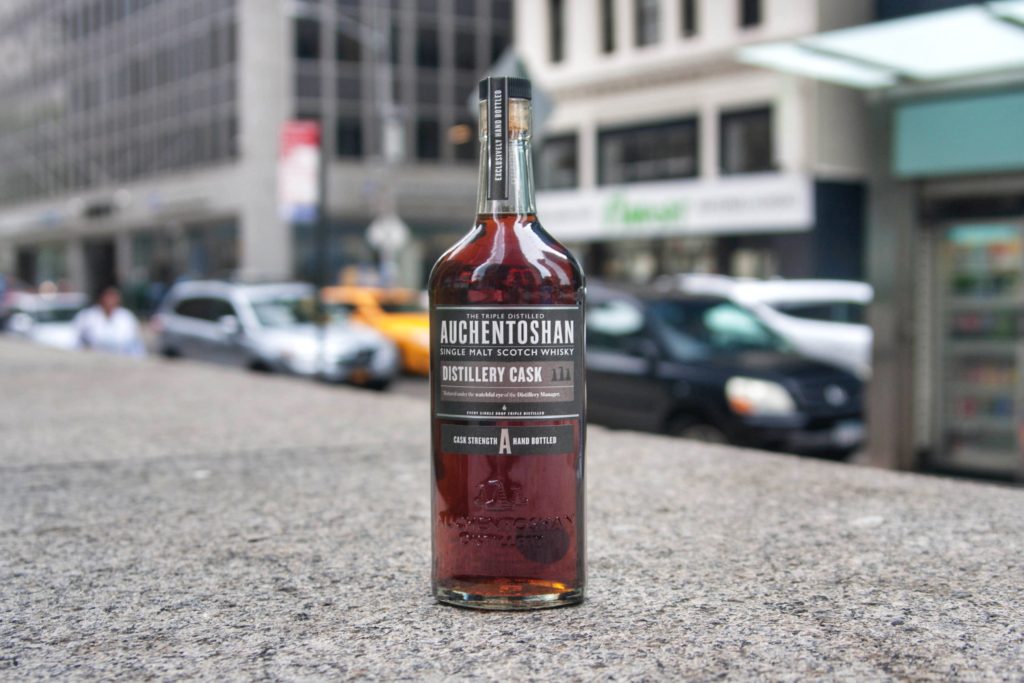 What I find to be interesting is just how strong this unique scent and taste is. Not only is it immediately recognizable as Auchentoshan, it brings me back to my tour of the distillery one year ago (as of this week). The entire distillery has a very unique scent to it that permeates through every building, and especially so in the on-site warehouse. While I find most of their core range bottles to be a bit lackluster and watered down, there's something to be said about the distillery exclusive single cask bottles that really represent this distilleries unique character.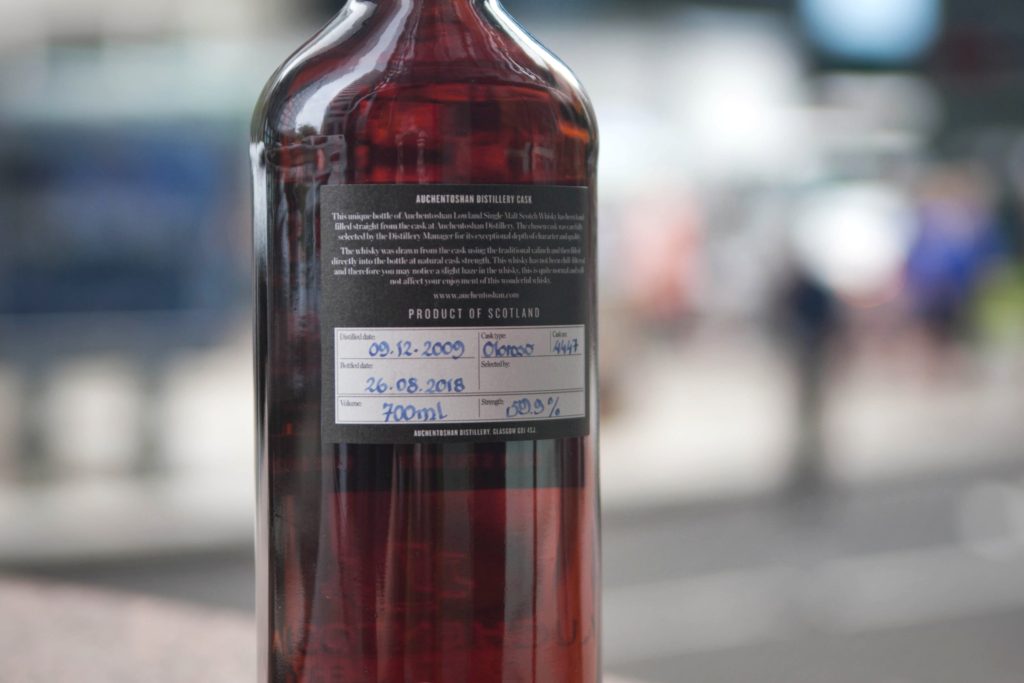 ---
BOTTLE INFO
Distiller: Auchentoshan
Region: Lowlands
ABV: 59.9%
Outturn: Unknown
Mashbill: 100% Malted Barley
Cask Type: Oloroso
Age: 8 years
Chill Filtered: No
Color Added: No
Color: Brown Sherry
---
TASTING NOTES
Glass for Review: The Perfect Measure
Nose: Discernible Auchentoshan nose. Well refines, soft yet bold nose full of dark chocolate, red grapes, blackcurrants, blueberries. Almost a hint of a full-body Cabernet. The oloroso cask comes through quite strongly in the nose. Almonds and espresso beans come through the nose after a few moments of opening up.
Palate: Spicy spirit at first, then followed by chocolate covered espresso beans, toffee, marzipan. Shifting from chocolate to becoming very nutty. Berries and grapes underline the darker sweet notes bringing in some fruitiness to give the dram some depth and complexity.
Finish: Slightly tannic and long lasting. The oak spice comes through in the finish along with more of the bitter dark chocolate, espresso, and almonds with a dash of sea-salt. Grape and cherry undertones are weaved in throughout. Oak spice and dry dark chocolate are left on the breath.
Overall: This is my favorite Auchentoshan I've ever had and wish I had bought two bottles at the distillery as mine is quickly nearing empty. The dram is soft and velvety yet powerful and bold and makes for a well balanced and enjoyable drink.
Average Price: $115