Having recently spent time with close friends catching up over a few drams in London I thought this post would be appropriate. I believe the only thing better about whisky than the whisky itself is the camaraderie and friendships I've made from this passion of mine. One of my favorite places in the world to just relax and hang out is Milroy's of Soho in London. Milroy's, where I spent most of my evenings last summer, autumn, and part of winter, was where I made many of these great and life-long friendships.
Whisky is something that brings people together. Whether it's at a whisky bar or through social media, I've made numerous friendships through sharing drams and discussing our favorite whiskies among other things. One night I was talking with Eddie DeSousa (bar manager of Milroy's) as he poured me a dram of this Glentauchers and imparted his knowledge about the distillery upon me. A lesser known Speyside distillery that normally goes into Ballantine's with very few bottlings as a single malt. Milroy's released their own exclusive bottle of Glentauchers as a single malt distilled in 2008, bottled in 2016 at a punchy 65.1% with a color that is almost opaque.
To all my friends, sláinte!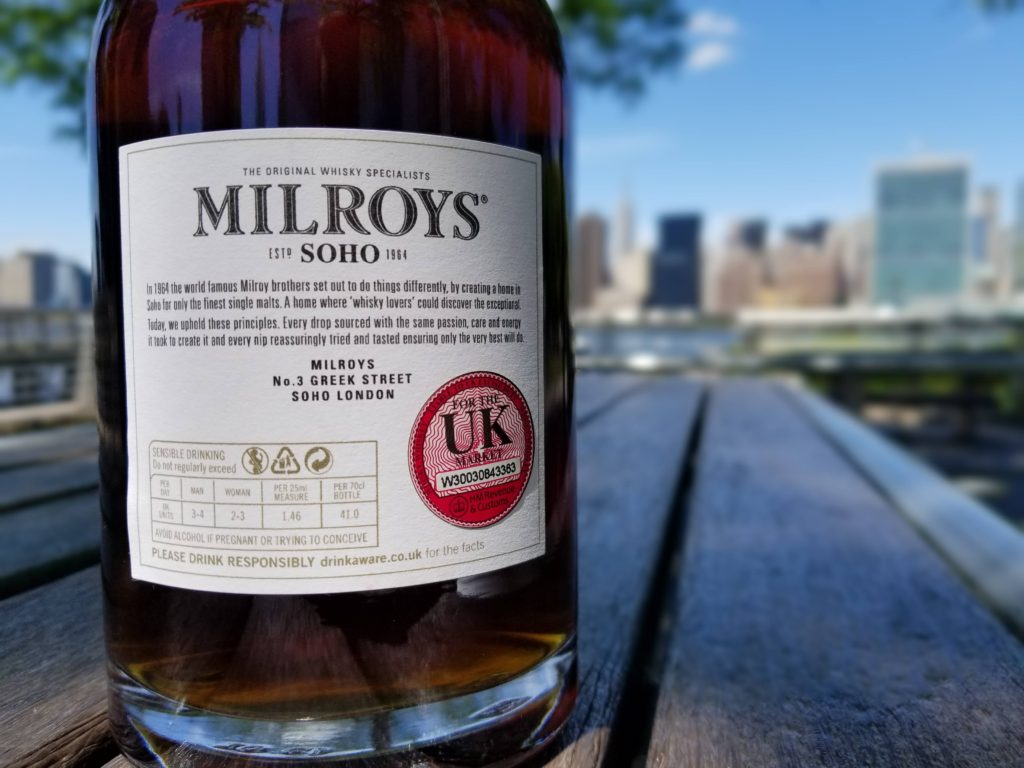 ---
BOTTLE INFO
Distiller: Glentauchers
Region: Speyside
ABV: 65.1%
Outturn: 768 Bottles
Mashbill: 100% Malted Barley
Cask Type: ex-Sherry
Age: 8 Years
Chill Filtered: No
Color Added: No
Color: Dark Cola
---
TASTING NOTES
Glass for Review: Glencairn
Nose: Melting fudge oozing from a warm cookie. Macadamia nuts and Bailey's liqueur melded with toffee. Letting the dram open for a few minutes bring out hazelnuts and dark caramel (almost like a Twix bar). Despite the 65.1% ABV and young age this dram does not tickle the nostrils and is quite well refined.
Palate: This dram is hot, but not in an off-putting way. The spice is upfront, but fades quickly to fudge, molasses, and raisins. Less forward are notes of dark fruits, plums, almonds, and macadamia.
Finish: A little bit of spicy oak, mostly nutty and fudgey – like a fudge brownie with almonds, macadamia, and hazelnuts that's drizzled with fresh caramel. The brownie is accompanied by raisins, figs, and blackcurrants.
Overall: This is a powerhouse dram. Open the bottle and let it breathe for a couple weeks. When you pour a dram, let it breathe some more for a short while. This dram is a little tight to begin with, but letting it breathe it really opens up. It's a fudge delight. I also recommend taking a sip of some water to coat your mouth before taking a sip of this whisky rather than adding water to the dram.
Average Price: $85