Every year thousands of whisky lovers migrate to Islay for Fèis Ìle – a week long festival celebrating all the distilleries on the island with entertainment ranging from distillery tours and masterclasses to live music and good food. Of course, being a special celebration of Islay whisky, both peated and unpeated, each distillery releases a special bottle or two just for the Fèis.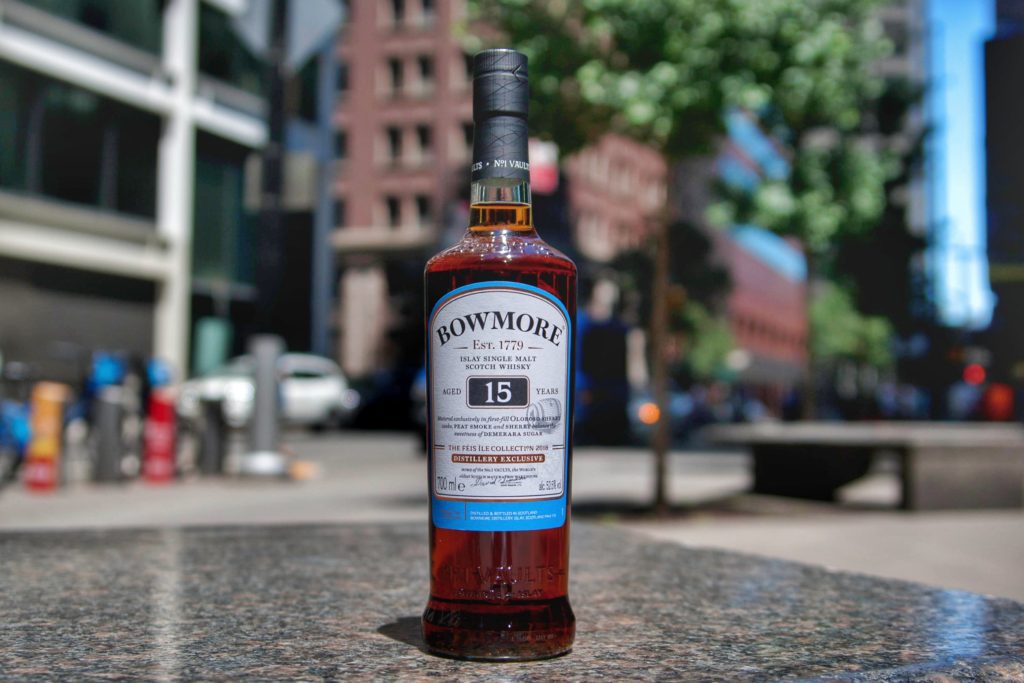 While I was unable to attend the 2018 Fèis Ìle, I was luck enough to snag one of the Bowmore 2018 Fèis Ìle limited edition bottles in an auction right after the festival. Bowmore released two bottles for the 2018 Fèis Ìle; a 15 Year Oloroso Cask, and a 1989 28 Year Ex-bourbon barrel. The 15 Year interested me more than the 28 Year as Bowmore and Sherry is (in my opinion) a perfect combo of peat and sweet.
---
BOTTLE INFO
Distiller: Bowmore
Region: Islay
ABV: 52.5%
Outturn: 3000 Bottles
Mashbill: 100% Malted Barley
Cask Type: Oloroso Sherry
Age: 15 Years
Chill Filtered: No
Color Added: No
Color: Treacle
---
TASTING NOTES
Glass for Review: Speigelau Nosing Glass
Nose: That traditional Bowmore signature is right there on the nose, with a nice twist of sweet dark fruits, dark roasted espresso, chocolate, and honey. All this is complemented by delicate wasps of peat smoke.
Palate: This whisky is a stunner. Rich sweet molasses and gingerbread with caramel and toffee in the mix. The combination of the oily mouthfeel and abundance of treacle notes make this a pleasantly chewy whisky. Espresso and mocha come into the palate, with the faintest tinge of peat smoke complemented by old leather books. Sherry-bomb right here.
Finish: Cinnamon spice and gingerbread cookie linger from the plate through the finish. The peat smoke and old leather books make more of an appearance in the finish after the sweetness and sherry notes begin to dissipate. Long lasting finish that leaves you wanting another sip.
Overall: This whisky is a stunner, a beautiful sherried Islay, with a brilliant balance of sweet, savory, and smoky. There are a lot of layers that keep you coming back for more, and the chewy mouthfeel and sweetness that isn't overwhelming makes you want to let it linger on the palate and enjoy all it has to offer.
Average Price: $125 (discontinued)