Upon celebrating their 50th Anniversary, Deanston released the Decennary – a limited edition whisky that you could only purchase at the distillery. The Decennary was my first introduction to Deanston when my friend JasonWhiskyWise shared a dram with me. I was immediately hooked on Deanston from that point forward and visited the distillery a couple weeks later and picked up my own bottle of Decennary (along with several others).
The Decennary is a marriage of four different casks. A 40 year old ex-bourbon from 1977, 35 year American oak from 1982, 21 year old port pipe from 1996, and an 11 year old PX cask from 2006.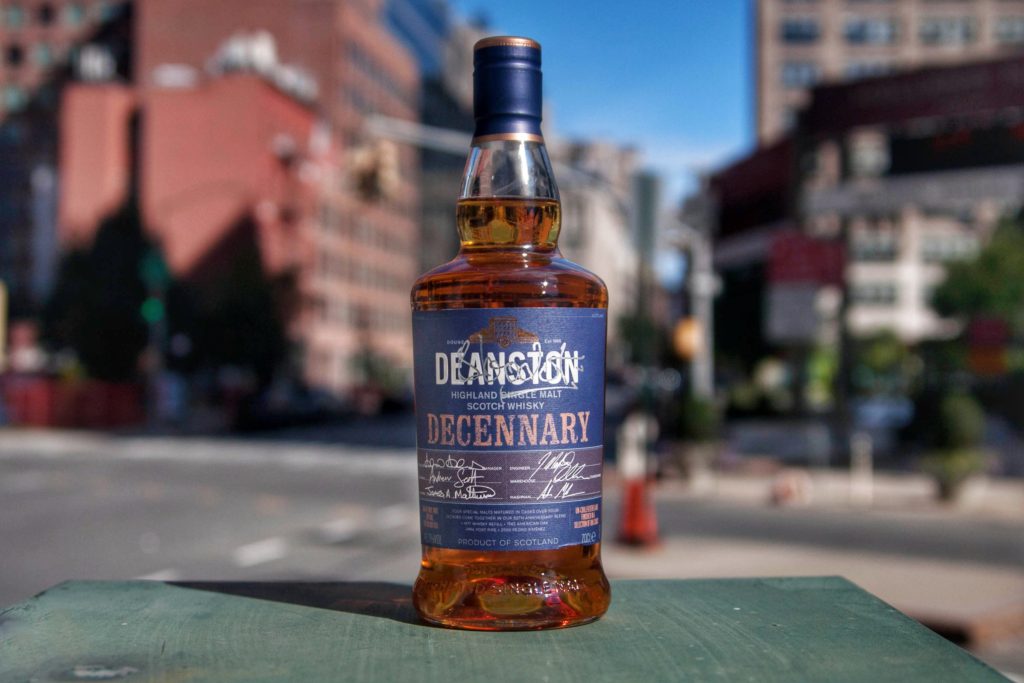 Shortly after the tour of the Deanston Distillery, I had the lucky opportunity to listen to Distell Distilleries Manager, Stephen Woodcock, speak for an evening about Deanston and their other brands (Bunnahabhain, Ledaig, and Tobermory) with the Drammers Club. He was also kind enough to sign my bottle of Decennary!
---
BOTTLE INFO
Distiller: Deanston
Region: Highlands
ABV: 46.3%
Outturn: 1400 Bottles
Mashbill: 100% Malted Barley
Cask Type: Vatting- 40 year old ex-bourbon from 1977; 35 year American oak from 1982; 21 year old port pipe from 1996; 11 year old PX cask from 2006.
Age: NAS
Chill Filtered: No
Color Added: No
Color: Dark Copper
---
TASTING NOTES
Nose: Malt and cereal is well pronounced on the nose with a citrus zest is woven in. Walnuts and digestive biscuits are swirled with a buttery and brown sugar mix. Apricots are noticeable in the background with a touch of nutmeg. A heavy cereal nose with many layers.
Palate: The cereal notes continue on the arrival of the palate, oats and biscuits along with dark roasted coffee beans and chocolate. Dried oranges and creme anglaise are mixed in with those deep malty notes. Dark fruits, particularly plums balance out the fruit and malt combination, and compliment the espresso and chocolate notes.
Finish: The finish is lingers for quite a long time, with oranges and toffee. The finish is first appearance of oak. Faint notes of red bean and vanilla linger around for awhile.
Overall: The Decennary is an excellent marriage of casks that results in a complex, but well balanced dram. This one is a casual drinker for a relaxing evening.
Average Price: $145 (discontinued)