When I visited the Glengoyne distillery in August of last year, I was hoping to find the latest batch of the Teapot Dram, but alas, something had gone wrong with the batch and bottling had been setback indefinitely. Finally, in November 2018, Batch #006 of the very special Teapot Dram was released and I immediately got my hands on a bottle.
What makes the Teapot Dram special? It's heritage harks back to the early days of the distillery when workers were given 3 drams a day. Some of the workers wouldn't drink their drams and they'd pour it in the teapot they had at their workstation saving it for a later date. Since the drams were from a variety of casks the result was always an interesting marriage of whiskies of all different ages and cask types (mostly sherry).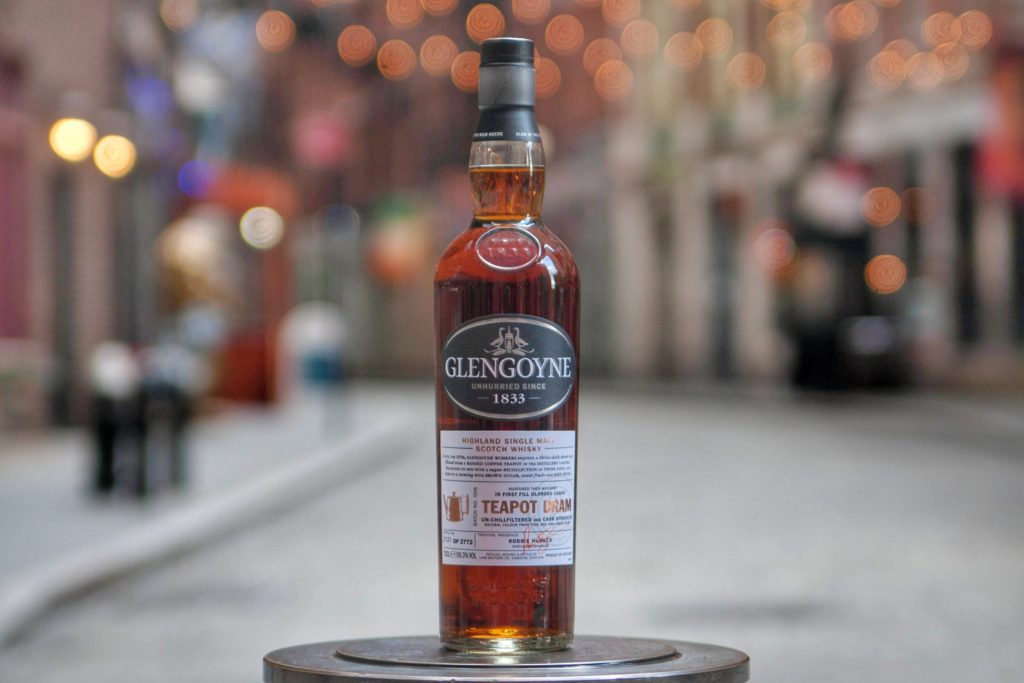 Keeping with tradition, while the workers no longer get drams during the work day due to legal liabilities, Glengoyne still creates a Teapot Dram in batches in honor of this old practice. Suffice to say, I'm glad the distillery pays homage to this tradition because it results in a wonderful sherry-bomb.
---
BOTTLE INFO
Distiller: Glengoyne
Region: Highlands
ABV: 59.3%
Outturn: 2772 Bottles
Mashbill: 100% Malted Barley
Cask Type: Unknown
Age: NAS
Chill Filtered: No
Color Added: No
Color: Old Oak
---
TASTING NOTES
Glass for Review: Spiegelau Nosing Glass
Nose: Abundance of fig and honey with more subtle notes of fruits: apple, pear, melon and chocolate dipped berries. Very slight waft of toffee and espresso topped with cocoa nibs, and a dash of cinnamon. Occasional notes of old oak resting in a damp shed.
Palate: The fruity notes come to life on the palate, full of cherries, citrus zest, and pineapple. Sweetness of blue agave nectar and chocolate swirl about. Cinnamon streusel and treacle coated walnuts.
Finish: There's a slight burn of alcohol on the finish, followed by spice and oak, eventually subsiding to toffee and chocolate. A little bit of pepper and 70% dark chocolate linger.
Overall: This is a powerhouse dram, but give it time to develop from when you first open the bottle. The hot finish feels like it's dulled a little since first cracking open the bottle a month ago.
Average Price: $115