Last night I attended a Bruichladdich (brook-lah-dee) tasting with brand ambassador Jason Cousins at The Hamilton Whisk(e)y Bar. Jason brought with him a wealth of knowledge about the Bruichladdich distillery as well as a few bottles for sampling: Classic Laddie, Islay Barley 2009, Port Charlotte Scottish Barley – Heavily Peated and the new 24 Year Old 1992 Black Art 5.
Bruichladdich founded in 1881 by the Harvey brothers on the isle of Islay and remains to be one of the few (if not the only) distillery that has escaped modernization. Skilled artisans and master distillers are in charge of all the production processes without the use of any computers. These skilled artisans pass on the knowledge orally and measure distillation through simple devices such as dipsticks and floats.
Bruichladdich has a strong commitment to Islay with all of its operations solely based in Islay. The distillery has the island's only commercially scaled bottling hall and is the largest private employer on Islay.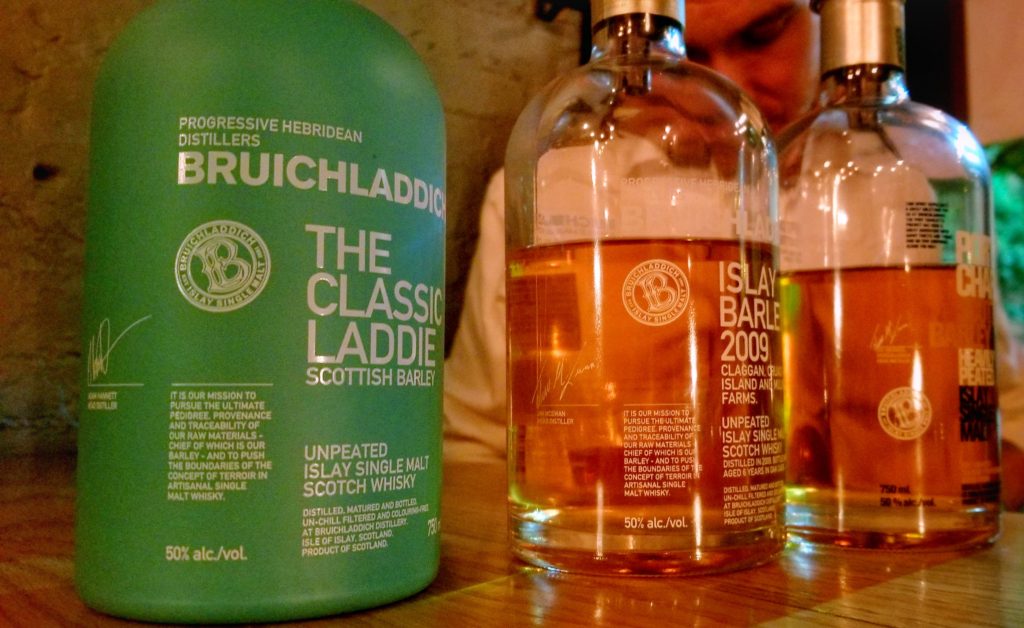 TASTINGS
With each expression from Bruichladdich there is a strong emphasis on the terroir of the whisky – "the barley and water of which it was made, and of the human soul that gave it life." All Bruichladdich whisky is bottled naturally, un-chill filtered and with no added color, retaining the natural oils and fatty acids that give the whisky its complex palate and mouthfeel. This strive for authenticity and passion put into each whisky is uniquely noticeable in the nose, palate, and finish of each expression.
Bruichladdich Classic Laddie – 50%
The Classic, as it's sometimes referred to, is a pretty light whisky. One could call it an entry level introduction to Islay whisky. It's not overwhelmingly peaty, with notes of barley, light smoke, hints of floral notes on the palate and a touch of apple crisp.
Bruichladdich Islay Barley 2009 – 50%
Stepping up into a slightly more peaty expression is the Islay Barley. The nose has lots of fruity notes – grapes, pineapple, plum – with a lingering of vanilla. The palate was quite different from the nose and complex. The whisky starts off with a taste of Belgian waffles, syrup, and a little bit of oak and finishes with a spice of peppercorns, brine, and peat.
Bruichladdich Port Charlotte Scottish Barley – Heavily Peated – 50%
At 40ppm you're getting into the Laphroaig territory of peat, however it's not that punch you in the face peat of Laphroaig. The smoke in this whisky is very reminiscent of a BBQ with lots of notes coming from smoked meats – mesquite, hickory and apple smoked varieties. Quite complex, and good on a summer's day.
Bruichladdich 24 Year Old 1992 Black Art 5 – 48.4%
Following in Jim McEwans's footsteps, this is new master distiller Adam Hannett's first recipe. As with the Black Art series, the barrels/casks, and aging are kept a secret. This was my favorite dram of the night. It had quite a dessert like nose, with a heavy influence of Oloroso and Sherry casks on the palate and a wonderfully oily mouthfeel. A sweet long lasting Sherry and Madeira finish rounded off the dram. A full review on this exquisite whisky will follow shortly!