First, I'd like to thank the two guys responsible for making this bottle a part of my collection. Martin Eber (Time for Whisky) first introduced me to this bottle when he sent me a sample from his collection that I truly enjoyed. A couple months later I went to Tokyo and saw Aaron Kovalcsik (Alligator Char) who suggested I make a stop at Malt Bar South Park where I asked for a sherry Bowmore and at the time unknowingly tried this again. I asked to see the bottle, sent a picture of it to Martin asking if he had it and he replies that its the same bottle he sent me a sample of! Unfortunately I had only a day left in Tokyo, so I quickly began searching the various Shinanoya's in the area trying to find this bottle with no luck.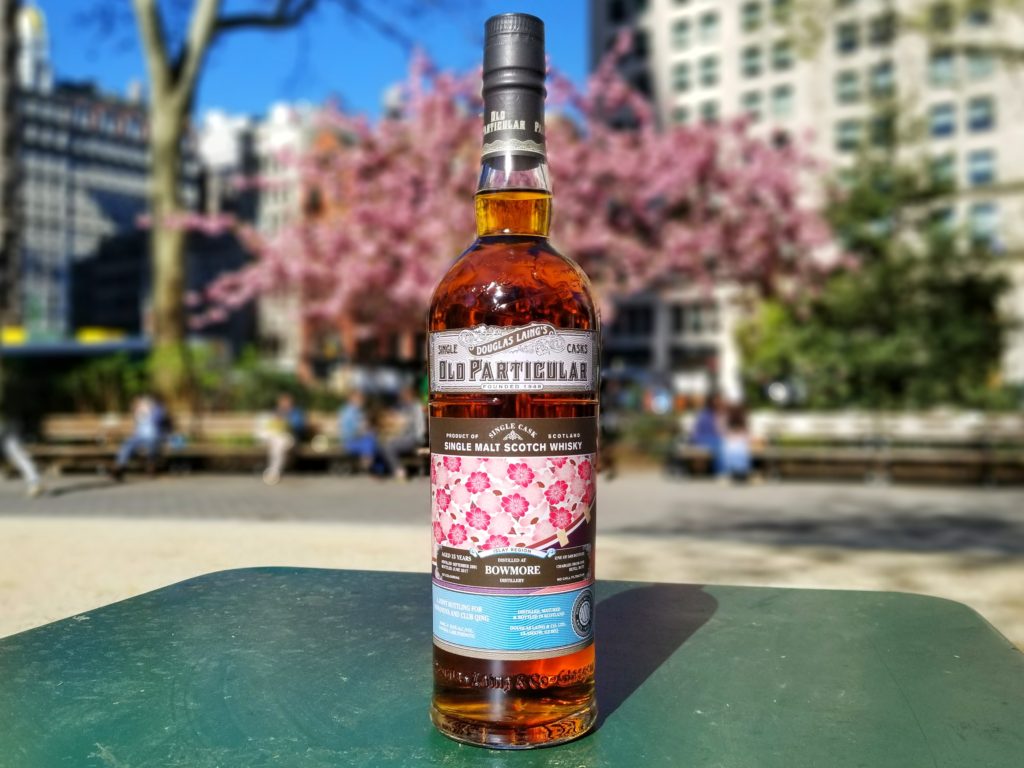 Upon my departure I sent Aaron and Martin a message asking if they could keep an eye out for it at Club Qing and Shinanoya. Martin said Club Qing had long sold out…my heart sank. Shortly after, Aaron said he recalls seeing one at a Shinanoya very recently and he'd go check for me. Sure enough, it was there on the shelf and he grabbed it for me. More amazingly it survived the long journey and 4 flights from Tokyo to New York when Aaron brought it over on his last trip for me.
---
BOTTLE INFO
Distiller: Bowmore
Region: Islay
ABV: 55.6%
Outturn: 548 Bottles
Mashbill: 100% Malted Barley
Cask Type: Refill Butt
Age: 15 Years
Chill Filtered: No
Color Added: No
Color: Auburn
---
TASTING NOTES
Glass for Review: The Perfect Measure
Nose: The nose is full of those aromas of walking into a dunnage on a cool damp day. Earthy, damp wood, malty. Followed by candied mandarin oranges and nectarines. A little hint of star fruit and bergamot. A dash of allspice and cinnamon. The peat, a more earthy peat typical of Bowmore, is woven in with the damp oak and citrus notes.
Palate: The peat comes out more on the palate – earthy and ashy. A dry peat. Earthy notes from the nose are much more apparent. Old leather and cinnamon, nutmeg, and allspice. The citrus notes from the nose are less present, more like red fruits with citrus zest accompanied by a variety of floral notes. A nice oily mouth feel.
Finish: Immediate, yet fleeting burst of citrus fading into leather and peat. Ash and burned cinnamon stick with toasted oak char. The finish tapers and then becomes quite floral – an unexpected twist. The smokey white ash lingers on the breath.
Overall: The cherry blossom on the label is well representative of the finish (whether intended or not). The floral notes on the finish were very unexpected after such a citrusy and earthy nose. The aromas of this dram are well balanced and elegant with a strong palate to follow. A weak nose of peat packs a punch on the palate and lingers on through a long medium-dry finish.