With a "limited" run of 12,000 bottles the Bruichladdich 1990/27, or HB'90 for short, was released exclusively to the travel retail market succeeding the fantastic 1990/25 Sherry Cask. The HB'90 is unpeated spirit distilled in 1990 where it then spent 17 years maturing in ex-bourbon casks, before transferred to French oak casks from Bordeaux. While Bruichladdich won't tell us where the casks are from there's a clue right on the label.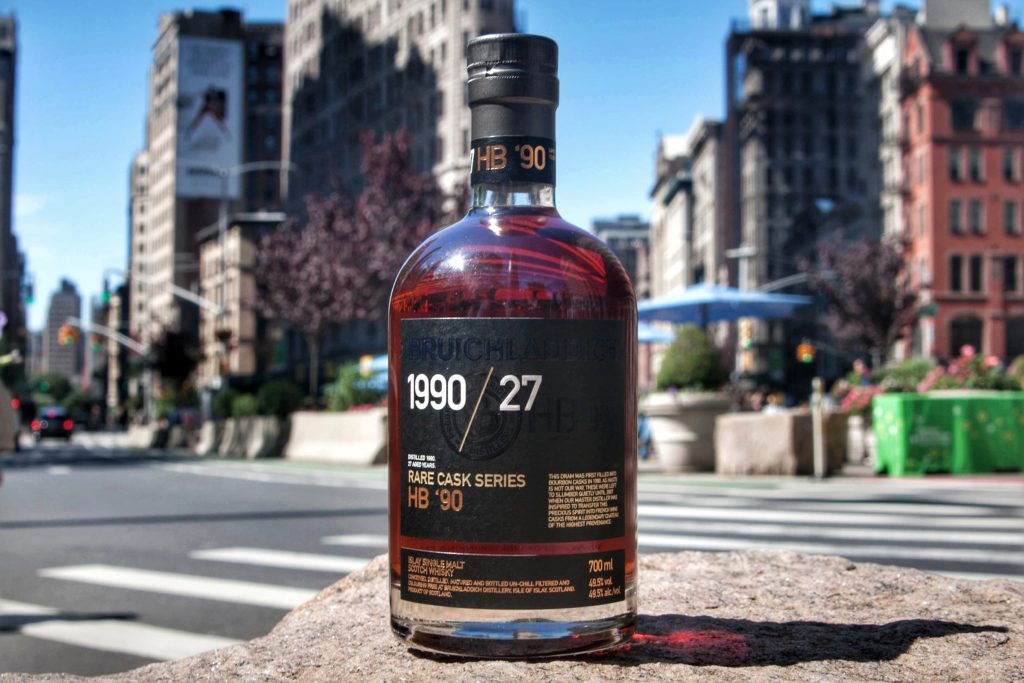 Situated outside the city of Bordeaux, France, producing Premier Grand Cru Classé rated wine, is Château Haut-Brion. One might deduce the HB on the label points to Château Haut-Brion as the supplier of the casks where this 27 year old whisky spent it's final decade maturing bringing this dram a slight tartness and many wonderful layers of complexity.
---
BOTTLE INFO
Distiller: Bruichladdich
Region: Islay
ABV: 49.6%
Outturn: 12,000 Bottles
Mashbill: 100% Malted Barley
Cask Type: 17 Years ex-Bourbon, 10 Year French Oak (Château Haut-Brion)
Age: 27 Years
Chill Filtered: No
Color Added: No
Color: Brown Sherry
---
TASTING NOTES
Glass for Review: Tulip
Nose: Fruit monster. Tart green apples, a twist of orange peel, a dash of lemon zest, strawberry, papaya and apricot jam. After a few moments, heavier notes appear – figs, fresh toasted bagels and vanilla macrons. The tartness dissipates, though the fruitiness remains in the essence of an old-fashioned.
Palate: The palate is more tame. Tart red-fruits are layered in with vermouth, rye, and maraschino cherries – like a spin on a rye Manhattan. Toasted oak takes a moment before bursting onto the palate.
Finish: How many cocktails are in this dram? Prominence of a whisky sour, the citrus notes come back in the finish with bourbon, amaretto, and a dash of egg white. A hint of vermouth and toasted cinnamon stick linger around, albeit quite feint.
Overall: I don't think I've used so many cocktails to describe a whisky before. The 17 years of bourbon influence is present, yet equally balanced with such a heavy wine influence that this dram is like a whole list of dark cocktails in a bottle.
Average Price: $400+