With the recent snow here in New York I find myself reaching for something peaty to warm me up, like this Bowmore bottled by Elements of Islay. The range is recognized by its iconic label harking back to the periodic table of elements we learned before we could drink whisky. The Elements of Islay range, is a series of batches from each of the small region's distilleries. Each batch is a marriage of a handful of select casks from a single distillery that represents the character of the distillery that made it.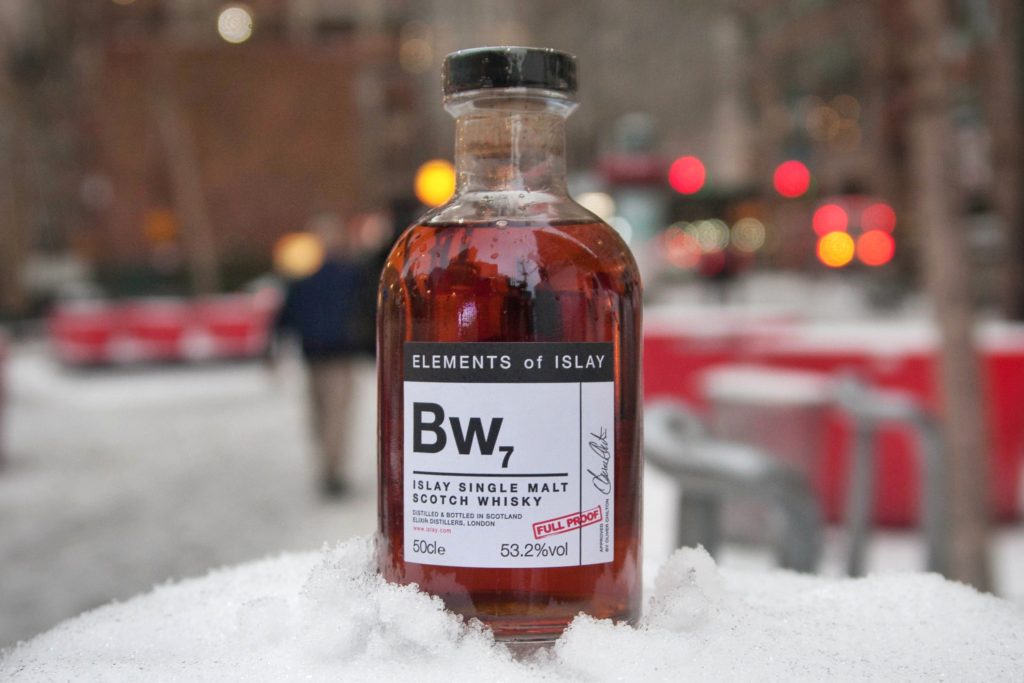 The label is absent of vintages, age statements, or really any details about what went into the bottle (which shape is known to bottlers as a "pharmacy" bottle). The idea again is to represent the character of each distillery that make up the "elements of Islay". However, if you go onto the website you can find out just a little bit more detail. This dram's element symbol, Bw7, represents the 7th Elements release of Bowmore, which is a marriage of 2001 distillate matured in 4 sherry butts…but that's all there is, which I'm fine with because it's a damn good dram.
---
BOTTLE INFO
Distiller: Bowmore
Region: Islay
ABV: 53.2%
Outturn: Unknown
Mashbill: 100% Malted Barley
Cask Type: Sherry Butts
Age: NA – 2001 Distillate
Chill Filtered: No
Color Added: No
Color: Brown Sherry
---
TASTING NOTES
Glass for Review: The Perfect Measure Nosing Glass
Nose: An abundance of tropical fruits immediately pour out of the glass. Mangos, peaches, cantaloupe. The fruit is well balanced with a tobacco ash and charred wood smoke. Honey and currants follow around in the background.
Palate: Coastal and maritime notes are first noticeable – sea salt, driftwood, and a bonfire that is burning its last few embers. Spice of peppercorns, mixed with mango, blood orange.
Finish: The maritime notes come through the finish with long lasting peat smoke, and black pepper spice. With time the smoke fades away leaving you with fruit and spice, and a little hint of chocolate covered orange candies. Lingering for a little while slightly astringent as the finish continues.
Overall: Another great example of how different sherried Bowmore can be. This dram is full of tropical fruits and maritime spice, completely different than the other sherry Bowmore I previously reviewed. One of the things that sticks out to me is the coastal and maritime character that sticks out from start to finish, sea-salt and spice, driftwood, bonfires, tropical fruits. Shame it's only a 50cl bottle, because it's going quick and may need to get a backup.
Average Price: $125