As a fan of PX casks, and Laphroaig, this is one bottle that always stuck out to me at the duty free store at the airport. Thanks to my friend who picked this up for me on his return from Manchester I was finally able to add this bottle to my collection.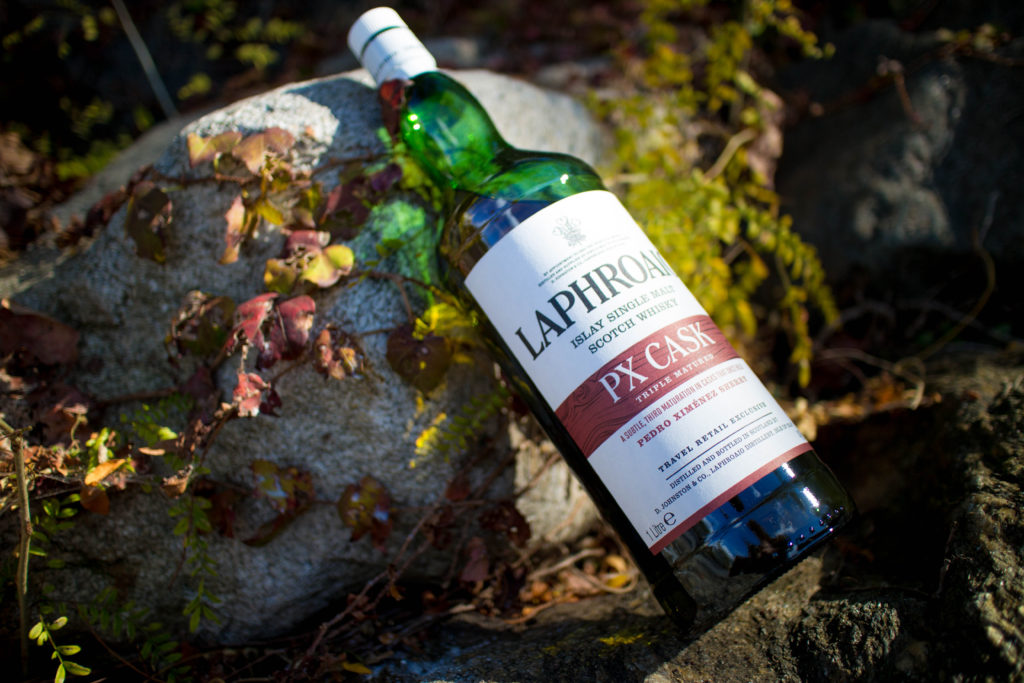 Originally the PX Cask was released for the travel market, but it can now be found in some stores in Europe. I haven't had much luck finding it on a shelf in the US. Similar to the triple wood, the PX Cask goes through a triple maturation process, but is then finished in Pedro Ximenez sherry casks. The finish in the PX casks adds another touch of character to the Laphroaig flavor profile. What you end up with a slightly sweeter and dark fruit variation of the Laphroaig Triple Wood, though still not as sweet as Brodir.
For me, the PX Cask was an interesting experience. The first time I opened the bottle and poured a dram I was a little disappointed; it tasted like sour fruits that had been soaking in Triple Wood. After letting it sit on the shelf for about a month after I opened the bottle, I revisited it – poured a dram, let it rest for 10 minutes and what a difference that made!
---
BOTTLE INFO
Distiller: Laphroaig
Region: Islay
ABV: 48.0%
Mashbill: 100% Malted Barley
Cask Type: American oak, quarter casks, and Pedro Ximenez sherry casks
Age: NAS
Chill Filtered: No
Color Added: No
Color: Chestnut
---
TASTING NOTES
Glass for Review: Glencairn (rested for 10 minutes)
Nose: Iodine, sherry, charred oak and peat smoke; notes leather and tobacco with a slight lingering aroma of licorice.
Palate: Tussle of sweet, spicy, and smoky. Brine along with lots of peat that can be moderated with water to bring out the sweet sherry, raisins and nuts.
Finish: From sweet to a punch of spice and brine, lingering smokiness. Dry lasting finish with hints of roasted nuts.
Overall: Complexity from nose to finish. Akin to Talisker Storm with more iodine, peat, and spice. Takes a little bit of water to bring out the sweeter notes. A slightly different, but welcomed take on Laphroaig Triple Wood
Average Price: $75-100 USD (typically found in duty free stores)
Laphroaig PX Cask - 48.0% ABV
Nose - 8.8
Palate - 8.4
Finish - 8.4
Overall - 8.8
8.6
Complexity from nose to finish. Akin to Talisker Storm with more iodine, peat, and spice. Takes a little bit of water to bring out the sweeter notes. A slightly different, but welcomed take on Laphroaig Triple Wood